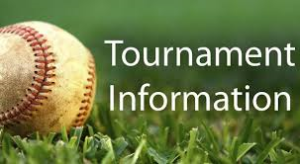 Hello everyone,
Looking forward to a fun-filled day of baseball on Saturday.
The schedule for this weekend's Season End Tournament is as follows:
CHAMPIONSHIP POOL
Time
GG4
GG5
9:00
Tree Sharks vs Inglorious Batters
Misfits vs Dustbusters
10:30
Safety in Numbers vs Tree Sharks
Inglorious Batters vs Dustbusters
12:00
Inglorious Batters vs Safety in Numbers
Tree Sharks vs Misfits
2:00
Misfits vs Inglorious Batters
Dustbusters vs Safety in Numbers
3:30
Safety in Numbers vs Misfits
Dustbusters vs Tree Sharks
CONSOLATION POOL
Time
GG6
GG7
9:00
Under Construction vs Just Us
Royals vs Wingnuts
10:30
Wingnuts vs Just Us
Royals vs Under Construction
12:00
Under Construction vs Wingnuts
Just Us vs Royals
Here are just a few reminders for Saturday's games.
– T...
Read More